December 8, 2023
Dear Friends,
The water company's work on the sewer repair on West Avenue is making good progress. Crews are still working between 9th Street and 11th Street. In a couple more weeks, they will move on to the area between 11th and 13th. I want to remind everybody that access to all local businesses will remain open at all times.
Beach replenishment at the south end is also moving quickly. Work has reached 51st Street, but operations may pause on Sunday with strong winds and heavy seas in the forecast. As of this morning, Great Lakes Dredge and Dock had completed about one-third of Ocean City's quota for new sand.
Bayside maintenance dredging has also started, and I'm glad to see that we've been able to sustain this program.
Last night's City Council agenda included resolutions seeking bids for construction of the Merion Park flood mitigation project and for design of another major neighborhood drainage project in the area along Haven Avenue between 18th Street and 26th Street.
I also want to extend condolences to the family of Donald Dearborn. I was on the school board when he served as superintendent, and he did a lot for the school system. If it wasn't for him and a few other people, we would not have the exceptional high school building and facilities that we have today. It's a big loss, and he certainly left his mark in Ocean City.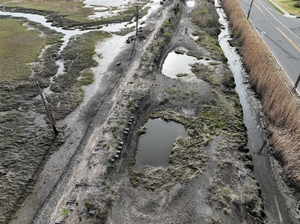 The city will host an informational meeting at 10 a.m. tomorrow at the American Legion Post 524 at 46th Street and West Avenue to review a planned project for the Crook Horn Creek Nature Trail at the western end of 51st Street.
Planned improvements will be limited to the existing pathway and will remain gravel, but they will make the trail safer and more accessible, while providing better flood resiliency for the adjacent Ocean City Homes neighborhood. The project will be funded by a federal grant and administered by the state Department of Transportation.
Anybody with an interest in this project is welcome to attend. The meeting will be videotaped and posted to the city website, and the state DOT will welcome public comments.
Happy Hanukkah and I wish health, light and laughter to all of our Jewish families in Ocean City during this holiday. We have lit the gazebo in Mark Soifer Park in blue lights, and a menorah will arrive tomorrow and be placed on the lawn at City Hall.
 
 Warm regards,
 
 
 Jay A. Gillian
 Mayor