January 27, 2023
Dear Friends,
I'm excited to announce that Ocean City will host a pickleball event for Special Olympics athletes on Saturday at the Civic Center. It's a new sport for the Special Olympics, and this will help the athletes learn the game.
I want to thank Jackie Adams and our Community Services Department for putting this program together. We already host Special Olympics events in swimming and track-and-field. After attending these competitions over the years, it's clear that these programs are incredibly rewarding to everybody involved – the athletes, their families, coaches, volunteers and spectators. I'd love to see Ocean City become a second home for the Special Olympics in the coming years.  
City Council last night awarded a contract to East Coast Falcons to continue our successful bird abatement program. The new contract extends the season and expands the program to include our downtown and 34th Street business districts. This innovative program benefits gulls by decreasing their reliance on human food and pushing them toward their natural habitat. It has dramatically improved safety and quality of life on our boardwalk, beaches and streets. I'm excited for the return of our raptor friends this spring.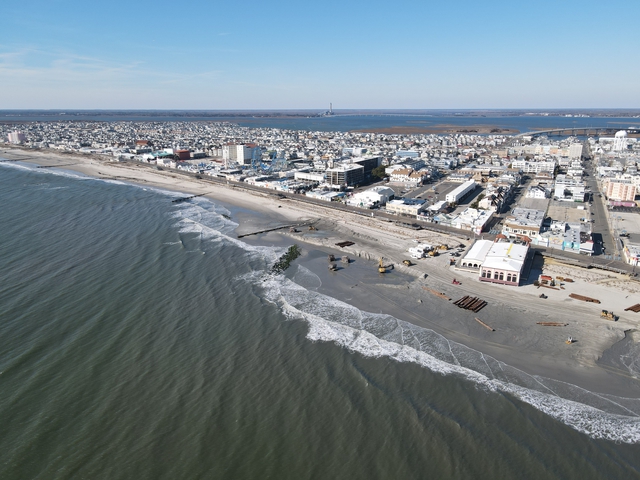 Beach replenishment work has reached 11th Street, and the project should be at the end of the line at 14th Street within a couple more days. The contractor will then return to touch up some areas from Fourth Street northward. Everything should be complete and cleaned up by mid-February. The Army Corps will leave behind extra stockpiles of sand that we will be able to use to address any erosion caused spring storms. The beaches are going to be in great shape for the summer.
Mobilization for back bay dredging was underway this week, and they will start dredging early next week at North Point Lagoon and Snug Harbor. The contractor will then work to the south all the way to Clubhouse Lagoon by the end of March. Our back bay and lagoons are also going to be in great shape for the summer.
I'm sad to report on the passing of Warren North this week. Warren was an icon in Ocean City for more than six decades as a builder, landlord and real estate professional. He was an Ocean City High School graduate, a member of the Ocean City Beach Patrol, an accomplished athlete, a football referee, and a member of our local Masonic Lodge and Rotary Club. Michele and I would like to pay tribute to a life well-lived and extend condolences to all of his family and friends.
I also want to extend condolences to the family of Anna Marie Maikner and all the members of American Legion Post 524 in Ocean City. Anna passed away last weekend after a brief illness. She was president of the post's Ladies Auxiliary, and I know all of her dedication to the post will be missed. 
I hope you all have a great weekend. Our bridge lights remain green in support of the Eagles. Let's all hope they can punch their ticket to the Super Bowl. 
Warm regards,
Jay A. Gillian
Mayor
---
Check on the latest project updates and sign up for email alerts.

 
Welcome to The City of Ocean City, New Jersey!
Ocean City is a town rich in history and a deep sense of community. Families have been vacationing in Ocean City for generations and many have made Ocean City their year round home.
Our residents enjoy award winning schools, world-class recreation facilities and outstanding municipal services from all City Departments including Police and Fire. Residents participate in activities for every age and interest including the cultural arts, music and theatre as well as sports and recreation programs available at our many parks, playgrounds and City facilities.
The City also maintains and operates a Municipal Airport, twelve-hole golf course, Aquatic and Fitness Center as well as the famed Ocean City Pops Orchestra.
Ocean City is also host to over 200 family friendly special events held year round. Many of our events are popular family traditions including the Night in Venice Boat Parade in July, our exciting Indian Summer Weekend in October featuring the mile long block party and fireworks, and our family friendly New Year's Eve Celebration, First Night.
If you are vacationing in Ocean City, I know you'll enjoy our seven miles of beautiful beaches and exciting boardwalk lined with shops, restaurants and amusements. And be sure to visit our unique and charming downtown shops and restaurants located in the heart of town on Asbury Avenue.
I am truly proud to serve as Mayor for this great community and hope you and your family enjoy your time in America's Greatest Family Resort.
Jay Gillian, Mayor
Phone: 609-525-9333
Email: mayor@ocnj.us