Nov. 26, 2021
Dear Friends,
 
I hope you were able to enjoy a safe, happy and healthy Thanksgiving with family and friends. We have much to be thankful for here in Ocean City, and I want to personally thank all of the residents, guests, businesses, city team members, educators, clergy members and volunteers who make our hometown so special.
Ocean City's 2021-22 back bay dredging program will include maintenance dredging at North Point Lagoon, Snug Harbor, Carnival Bayou, Venetian Bayou, Sunny Harbor Lagoon, South Harbor Lagoon and Clubhouse/Bluefish Lagoons. Using the citywide dredging permit, private owners can now arrange to have their boat slips dredged at their own expense by a private contractor. The more material we can remove from our waterways, the easier it will be to maintain depths. More information is available here.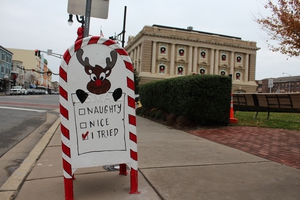 Our Public Works team did a great job repainting Santa's mailbox at the corner of Ninth Street and Asbury Avenue. Kids are invited to send their wish lists to the North Pole. We all were kids once, so we added a special category in addition to "Naughty" and "Nice."
I hope to see you today at our downtown Christmas celebration. The Fire Department will be on hand with a ladder truck at 5 p.m. in case Santa makes a landing on the roof of City Hall as he has in the past. He'll then be on hand to help illuminate the city's tree.

Seasonal beach tags for summer 2022 are on sale now. The discounted price of $20 will remain in place through May 2022. Visit store.ocnj.us for more information on how to purchase online or in-person.
First Night buttons are also on sale. Ocean City's family-friendly New Year's Eve celebration returns this year, and the lineup of entertainment and activities looks great. Visit firstnightocnj.com to see the schedule and get in on the fun.
 
Have a great weekend.
 
Warm regards,

 
Jay A. Gillian
Mayor
---
Check on the latest project updates and sign up for email alerts.

 
Welcome to The City of Ocean City, New Jersey!
Ocean City is a town rich in history and a deep sense of community. Families have been vacationing in Ocean City for generations and many have made Ocean City their year round home.
Our residents enjoy award winning schools, world-class recreation facilities and outstanding municipal services from all City Departments including Police and Fire. Residents participate in activities for every age and interest including the cultural arts, music and theatre as well as sports and recreation programs available at our many parks, playgrounds and City facilities.
The City also maintains and operates a Municipal Airport, twelve-hole golf course, Aquatic and Fitness Center as well as the famed Ocean City Pops Orchestra.
Ocean City is also host to over 200 family friendly special events held year round. Many of our events are popular family traditions including the Night in Venice Boat Parade in July, our exciting Indian Summer Weekend in October featuring the mile long block party and fireworks, and our family friendly New Year's Eve Celebration, First Night.
If you are vacationing in Ocean City, I know you'll enjoy our seven miles of beautiful beaches and exciting boardwalk lined with shops, restaurants and amusements. And be sure to visit our unique and charming downtown shops and restaurants located in the heart of town on Asbury Avenue.
I am truly proud to serve as Mayor for this great community and hope you and your family enjoy your time in America's Greatest Family Resort.
Jay Gillian, Mayor
Phone: 609-525-9333
Email: mayor@ocnj.us