Ocean City Summer Jitney Service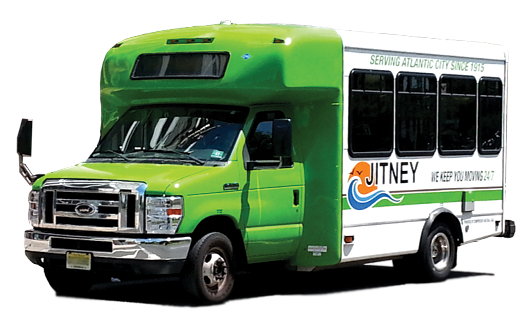 Ocean City subsidizes a program to provide jitney transportation to the boardwalk zone. For a small fare, the service provides convenient transportation to the Ocean City Boardwalk 5 p.m. to 11 p.m. daily during the summer. 
SCHEDULE
The Boardwalk service will launch 5 p.m. to 11 p.m. on the holiday weekend of Friday, May 26, 2023 to Monday, May 29. Service will then resume with daily routes beginning on June 23, 2023.
Boardwalk: 5 p.m. to 11 p.m. daily June 23 through Sept. 4 in 2023.


ROUTES
Jitneys run in a continuous loop from 55th Street to North Street. See map below or view our printable jitney route map.


FARES
Jitney fare is $2 one-way payable by cash. Drivers can provide change. Children ages 5 and under ride free.
JITNEY STOPS
If you're heading north, wait on the north side of any intersection to flag down your jitney. If you're heading south, wait on the south side of any intersection.
TRACK YOUR RIDE
Download the "Jitney Surfer" app to track the location of approaching jitneys in real time. Future generations of the app will allow for the online purchase of tickets (but that service is currently available only to riders in Atlantic City ... please do not use that function for Ocean City ridership). An easier way to access "Jitney Surfer" and to provide comprehensive information for everything you need to know about enjoying Ocean City is through the Ocean City Vacation (OCNJ) app. Download Jitney Surfer on Apple. Download Jitney Surfer on Google.