Sports Memorabilia Show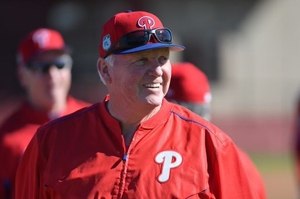 The Sports Memorabilia Show will take place on April 30 from 10 a.m. to 4 p.m. at the Ocean City Music Pier.
Former Philadelphia Phillies Coach Charlie Manuel and former Philadelphia Eagles linebacker Seth Joyner will be part of the show. They will greet fans and lead Q&A sessions.
Manuel managed the Phillies from 2005 to 2013 and led the team to a World Series title in 2008 and five consecutive National League East titles from 2007 to 2011. He has been a player and coach in Major League Baseball for more than 40 years. Joyner was a Pro Bowl linebacker and fan favorite with the Eagles during a career that extended in Philadelphia from 1986 to 1993 and continued with the Arizona Cardinals, Green Bay Packers and Denver Broncos. 
Joyner will participate in a free Q&A session at 11 a.m., and Manuel's free Q&A session will be at 2 p.m. on stage at the Music Pier. Following these sessions, the sports legends will be available for meet-and-greets with fans. Tickets ($25) are on sale now for the opportunity to get an autograph and photo with Joyner (starting at 11:30 a.m.) or Manuel (starting at 2:30 p.m.). Visit oceancityvacation.com/boxoffice, call 609-399-6111 or stop by City Hall or the Roy Gillian Welcome Center.
Vendors with merchandise and collector's items representing a variety of sports and teams will be on display and for sale at the show.