Ocean City Pops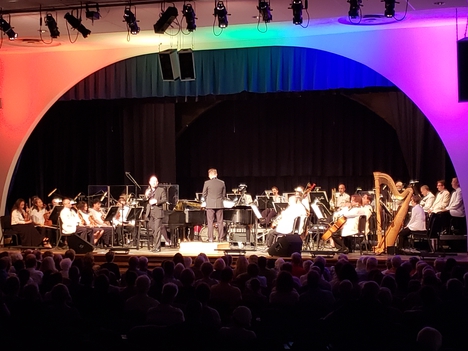 Tickets for the 2022 Ocean City Pops season are on sale now. For complete information on how to order tickets online or in-person, please visit www.ocnj.us/boxoffice. 
The 2022 schedule includes the following shows. All shows are at 7:30 p.m. at the Ocean City Music Pier unless otherwise noted.  
JUNE 26th – Big Bad Voodoo Daddy with The OC POPs The Ocean City Pops Orchestra will open its 2022 summer season with a special show featuring the legendary swing band Big Bad Voodoo Daddy.   Taking inspiration from the creators of this uniquely American art form, the band's original horn-infused music and legendary high-energy show introduces the genre to a new and younger generation, while remaining respectful of the music's rich legacy.
JULY 3rd & 4th – Ocean City Pops FREE Outdoor Concert The Ocean City Pops will perform a free outdoor concert at 7:30 p.m. at Carey Stadium. Our legendary local orchestra will perform patriotic classics and audience favorites in honor of our nation's birthday. Bring a beach chair or blanket to sit on the field, and there will be seating available in the bleachers.
JULY 6th - The Ocean City POPS Presents Beethoven 9 Originally planned for Beethoven's 250th birthday, this monumental concert brings one of history's most beloved and famous works to the Ocean City Music Pier. A symphonic choir, four soloists, and a full orchestra will team up in the first-ever, full performance of Beethoven 9 in Ocean City history. Don't miss this one-of-a-kind event!  
JULY 10th - The Ocean City POPS Presents Great American Songbook Tin Pan Alley comes to Ocean City! George Gershwin, Cole Porter, and Irving Berlin are just a sampling of the songs you will hear from one of the most important eras of American Music.
JULY 17th - The Ocean City POPS Presents Star Wars and Beyond With a career that spans an incredible seven decades, John Williams has helped to create some of the most memorable moments of the silver screen. Maestro Vince Lee leads an expanded Ocean City Pops orchestra in selections from Star Wars, Jurassic Park, E.T., and so much more. Bring the whole family, and don't miss the pre-concert events featuring characters from the movies!
JULY 20th  - The Ocean City POPS Presents Bill Scheible Returns That's Amore! Ocean City Pops conductor emeritus, Bill Scheible, returns to the Music Pier in a program touring highlights of sunny Italy including selections made popular by Andrea Boccelli, Dean Martin, Frank Sinatra and others. Justin Gonzalez sings. Sponsored by Manco and Manco in memory of Frank Manco.
JULY 24th – Jackie Evancho with the Ocean City POPS Since she first dazzled television audiences at the age of 10 as a runner-up on NBC's "America's Got Talent," Evancho has released a string of platinum and gold albums with sales of over 3 million. seven of Jackie's albums have hit No. 1 on the Billboard Classical chart.
JULY 31st - The Ocean City POPS Presents Broadway Smash Hits! The Great White Way extends to the ocean for this concert! As Broadway roars back to life, join Maestro Vince Lee, the Ocean City Pops, and special guests in this celebration of the world of theater. Hear Rodgers & Hammerstein, Andrew Lloyd Weber, Stephen Sondheim, and much more!
The Ocean City POPS and the Ocean City Theatre Company Presents: The Sound of Music- Featuring a trove of cherished songs, this famous story earned five Tony Awards and five Oscars. The inspirational story, follows an ebullient postulate who serves as governess to the seven children of the imperious Captain von Trapp, bringing music and joy to the household. But as the forces of Nazism take hold, the family must make a moral decision. Performances will be held at The Hughes Performing Arts Center. Show Dates: August 3rd, 5th, 6th, 9th, 10th, & 12th, show time 7:30 PM. August 4th and 11th, show time 2 PM.
AUGUST 7th - The Ocean City POPS Presents Symphony Night The musicians of the Ocean City Pops take center stage as featured soloists! The orchestra will be at its virtuosic best as Maestro Vince Lee leads some of the greatest and most-beloved music in history.
AUGUST 14th- The Ocean City POPS Presents Elizabeth Stanely Tony-nominated Elizabeth Stanley makes her Ocean City debut! Already a Broadway success from her roles in Company (2006) and Million Dollar Quartet, Ms. Stanley reached new levels of acclaim with her blockbuster performance in Jagged Little Pill. Come hear one of NYC's most versatile voices perform selections ranging from classic musical theater to modern rock!
AUGUST 21st – Katherine Jenkins with the Ocean City POPS Welsh superstar Katherine Jenkins was crowned last year as "The Biggest Selling Classical Artist of the Century" by Classic FM. She cemented that title with her 14th No. 1 album on the classical charts.
AUGUST 24th  - The Ocean City POPS Presents AVA Superstars After last year's blockbuster concert featuring four of the best opera students in the country, Maestro Vince Lee is thrilled to make this concert an annual Ocean City tradition. Two of last year's performers were district winners of the Met Opera competition, and a third made it to the finals- come hear which future superstars will make their debuts on the Music Pier stage!
AUGUST 28th - The Ocean City POPS Presents The Duprees Jersey City legends, The Duprees, return to the Ocean City Music Pier! Audiences around the country have enjoyed their timeless, Doo-Wop sound for decades. Come celebrate the 60th anniversary of their first hit single, "My Own True Love", as they fill the hall with their signature sound.
SEPTEMBER 1st - The Ocean City POPS Presents Lee Greenwood Lee Greenwood, Country superstar and American legend, makes his debut with the Ocean City Pops! Most famous for his 1984 hit, "God Bless the U.S.A.", you'll also hear other smash hits ("IOU", "Ring On Her Finger, Time On Her Hands"), along with a few surprises.
SEPTEMBER 4th - The Ocean City POPS Presents Three Tenors Return Our Three Tenors from 2021 return to Ocean City! This unique mix of spectacular singers- two from Opera, and one from Musical Theater- creates one of the most compelling and entertaining "Tenors" shows in the country.
SEPTEMBER 7th - The Ocean City POPS Presents Dance Around The World Feel free to dance in your seats as Maestro Vince Lee leads the Ocean City Pops in dance music from around the world! From a classic waltz to modern toe-tappers, this concert is guaranteed to get you moving.
SEPTEMBER 10th The Ocean City POPS Presents Rock & Radio Get ready to rock 'n roll down memory lane with an evening of music and memories straight from the radio featuring the biggest pop songs of all time. Groove along to over eight decades of chart-topping hits from the greatest names in music history including Frank Sinatra, Ella Fitzgerald, Carole King, Aretha Franklin, The Beatles, Elvis Presley, Whitney Houston, Lady Gaga, Elton John, Adele and more. 
SEPTEMBER 17th  - The Ocean City POPS Presents Maestro Vince Lee at the Keys Help us end on a high note, and come celebrate the virtuosic close of our 2022 season! Maestro Vince Lee will lead the fabulous musicians of the Ocean City Pops in a jam-packed lineup of piano favorites, ranging from Rock to Rachmaninoff. Highlights also include rare gems from the storied Ocean City Pops music library, such as a breathtaking work by Chopin, along with new arrangements written just for the Pops by Maestro Lee.