Beach and Boardwalk Accessibility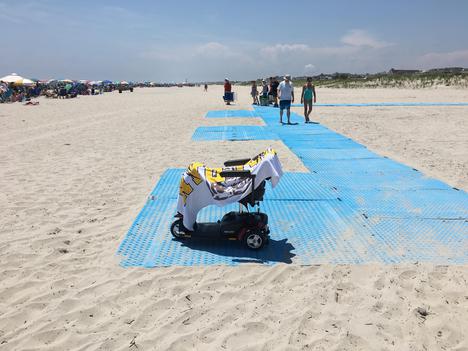 Ocean City works constantly to make streets, sidewalks, the beach, bay and boardwalk accessible to those with disabilities or limited mobility. Check back here regularly for updates on new amenities.
 
FREE SURF CHAIR PROGRAM
Beach-accessible wheelchairs are available at the 46th Street Information Center, 46th Street & West Avenue (next to the 46th Street Fire House), from 9 a.m. to 4 p.m. The program is for individuals of all ages. "Surf Chairs" provide an opportunity for everyone to enjoy the surf and sand. Daily or 1-week maximum. Call (609) 554-0352 for information or reservations. Surf chairs are also available at lifeguard headquarters (1st Street, 12th Street, 34th Street, 58th Street) for temporary use to shuttle individuals onto the beach.
 
WHEELCHAIRS ON BOARDWALK
A limited number of wheelchairs are available to borrow for free for daily use only on the boardwalk for two hours at a time. You can pick them up at the Music Pier Information Center (on the boardwalk between 8th Street and 9th Street), first-come, first-served, during business hours.  Call 609-399-6111, ext. 9337 with questions.
 
BEACH ACCESS
The city is experimenting with ADA-compliant beach-access mats stretching onto the beaches at Surf Road, Waverly Beach (off E. Atlantic Blvd.), Stenton Place, 14th Street, 34th Street Beach and 58th Street Beach. These paths lead to sitting areas where those in wheelchairs can enjoy the beach.  Accessibility measures include ramps over the boardwalk or bulkhead, hard-packed dune crossovers and plastic beach mats across portions of soft sand.
BOARDWALK AND BEACH RESTROOMS
Rest rooms are located at 1st Street, 6th Street, Music Pier, 10th Street, 11th Street, 12th Street, 34th Street Playground, 58th Street Beach. All bathrooms are accessible.
 
BOARDWALK PAVILIONS
Shaded boardwalk pavilions near 8th Street, 9th Street, 10th Street, 11th Street and 12th Street provide an accessible way to enjoy ocean views.
 
PARKING AT METERS BY PLACARD HOLDERS
According to the NJ Division of Disability Services, NJ Motor Vehicle Commission and 39:4-207-(C.39:4-207)- When parking at a metered space, a driver or passenger with a placard or handicapped license plate must put the appropriate amount of money in the meter. If the vehicle will occupy the space for more than the maximum amount that the meter holds, the driver must fill the meter to the maximum amount. This will permit the vehicle to occupy the space for up to 24 hours, and no further payment will be required during that time.
 
PARKING IN MUNICIPAL LOTS
All municipal lots include spots with access for persons with disabilities. Regular fees apply in-season.