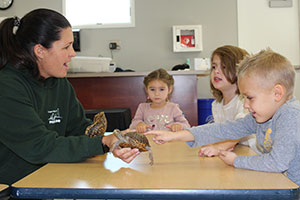 Errands to run? Chores to get done? Just want your child to have some fun?! Little Rec'ers is a play group for young children (ages 3 to 5) to meet others their age, get some wiggles out and play! Packages include a daily drop-in fee ($20), a 10-play card ($160) and a 20-play card ($240). There is no set schedule needed for your child. The program includes special visits from The Wetlands Institute, Cape May County Zoo, swim lessons, cooking and much more.
Play group is a drop-off program Monday through Friday from 9 a.m. to 12 p.m. at the Recreation Building at Eighth Street and Haven Avenue and runs through June 10, 2023. It is open to residents and nonresidents. Children must be fully potty-trained.
Registration can be done online at ocnj.recdesk.com, or in person at the Ocean City Aquatic and Fitness Center (1735 Simpson Avenue). For more information, you can email playgroup@ocnj.us or call 609-525-9304.
Cape May County's Zoo to You Program was a recent highlight for the Little Rec'ers. Zookeepers came to Little Rec'ers to teach the children about some of the animals they have at their zoo. They brought Spaulding the ball python, who beat everyone in a staring contest, because snakes have no eyelids; a friendly box turtle; a hedgehog named Elsa who was very prickly; and the BIGGEST bunny ever named Fern. The program looks forward to the zoo coming back for another visit in February with new animals. 
Little Rec'ers is also offering Parent Night/Day Out events for children ages 3 to 8 years old. This is a program held on one Friday and one Saturday a month for 3.5 to 4 hours to allow guardians to have some kid-free time. Children are treated to pizza and a special dessert, games, crafts, music, toys and more. It is open to residents and nonresidents as well. Registration and contact information is the same as Little Rec'ers.