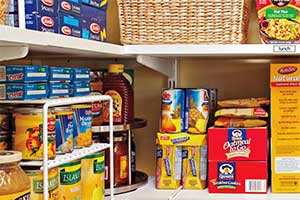 With summer coming to a close, the Ocean City Division of Social Services would like to remind residents that emergency food supplies are available to individuals and families in need.
The Ocean City Ecumenical Council's Community Food Cupboard has provided food for many children and adults each year since 1976. The Cupboard is staffed and maintained by volunteers and stocked through donations from the community.
The Food Cupboard is located at St. Peters United Methodist Church at 501 E. Eighth Street.  The entrance is located in the alley between Wesley Avenue and Central Avenue. It is open 1 p.m. to 3 p.m. on Monday, Wednesday and Friday (excluding holidays). Ocean City residents in need will receive a generous emergency supply of food once every 30 days. Non-perishable food is provided in pre-packed grocery bags that are filled according to family size.
For more information on donating or receiving, call 609-398-3191 or visit https://www.ocecnj.org/food-cupboard.
The Ocean City Division of Social Services now offers a supplementary/emergency food pantry for low-income Ocean City residents. 
Eligible residents can visit the Division of Social Services office to apply and receive a month's supply of food. This program is funded by a HUD Community Development Block Grant (CDBG).
Applicants must be residents of Ocean City and provide proof of residency.
Applicants will be required to complete the CDGB Self-Certification Form with the help of Social Services staff.
Food Pantry Information
Address: Ocean City Public Safety Building, 821 Central Ave, North Alley, Ocean City, NJ 08226
Hours: 9 a.m. to 4 p.m. Monday to Friday