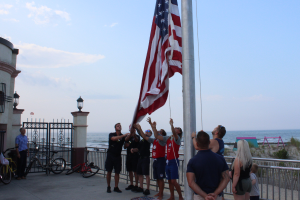 The daily boardwalk flag-raising ceremony – a beloved tradition in Ocean City – continues at the Ocean City Music Pier this summer.
The ceremony starts at 9 a.m. every day from May 27 through Sept. 11 in 2022. The event includes the playing of Lee Greenwood's "God Bless the U.S.A" and the national anthem.
A  flagpole in front of the Music Pier has been dedicated to the memory of three veterans from Ocean City: Joe Caserta, James "JR" Robinson and Bill Cruice. 
Caserta was a tank driver in some of the fiercest battles in Europe. His bravery earned him the Bronze Star, Purple Heart and countless other medals and honors. Robinson received two Purple Hearts and Presidential Unit Citation for his heroism in the Vietnam War. Cruice was a veteran of the wars in Korea and Vietnam, and a founder of the American Legion Post 524 here in Ocean City. Each was a regular attendee of the flag-raising ceremony.
"We owe a debt of gratitude to people like Joe, J.R. and Bill for their service to country and community," Mayor Jay A. Gillian said. "I'm proud to keep this patriotic event going and looking forward to seeing everybody take a moment each morning to pay tribute to our great nation."
The tradition of a flag-raising ceremony at the Music Pier dates back to July 4, 1940, and the event took on new meaning in the World War II years that followed before it was discontinued in 1946. Jim Gillian, owner of Gillian's Island Water Park at the time, first erected a flagpole during construction of the adjacent Adventure Golf. The flag was requested by a veteran POW who ran the boardwalk every day. The flag-raising ceremony in front of the park began after the attacks on Sept. 11, 2001 and has been held daily every summer since then from Memorial Day to Sept. 11.