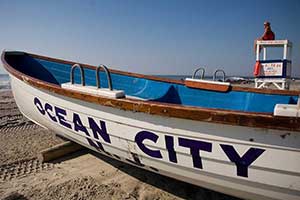 The Ocean City Beach Patrol will be guarding the following beaches beginning Friday, July 1.  Beaches are guarded from 10 a.m. to 5:30 p.m. weekends and holidays and from 10 a.m. to 5 p.m. on weekdays.
Seaspray Road
Surf Road
Atlantic Avenue
North Street
Stenton Place
St. Charles Place
Pennlyn Place
Park Place
Brighton Place
6th Street Surfing Beach
8th Street
9th Street
10th Street
11th Street
12th Street
14th Street
15th Street
18th Street
22nd Street
24th Street
26th Street
28th Street
30th Street
32nd Street
34th Street
36th Street
39th Street
42nd Street
44th Street
46th Street
50th Street
55th Street
58th Street
60th Street
Lifeguard stands may not be exactly at street ends as guards will place the stand in the safest area depending on water conditions. 
Fifth Street Beach will be closed to swimming due to exposed rocks in the bathing area, and 53rd Street will not open this week due to unsafe rip currents (the stand at 55th Street will move closer to 54th Street).
Thank you for helping to keep Ocean City safe. The Ocean City Beach Patrol strongly urges bathers to swim only at guarded beaches.  If you have any questions, please call 609-525-9200. For information on guarded beaches and all OCBP activity, visit www.ocnj.us/ocbp. For all emergencies, call 9-1-1.