OC Talks! Virtual Session on Jan. 26 Features Discussion of Accessibility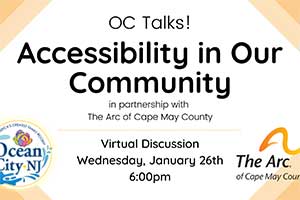 The Ocean City Division of Social Services will present a free discussion on accessibility in our community at 6 p.m. Wednesday, Jan. 26, 2022. 
This month, the new "OC Talks!" series will welcome The Arc of Cape May County to discuss resources available to those living with disabilities in our community.
Do you have questions for our panel, but can't attend this session? Submit them here.
Visit the Facebook event page for more information and links to participate in the virtual event on Jan. 26. 
Need more information? Call 609-525-9288.