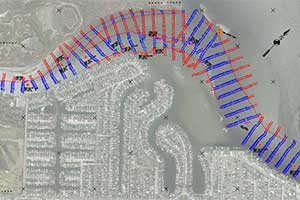 The U.S. Coast Guard is seeking information from users of the New Jersey Intracoastal Waterway as work continues to identify naturally deep water and shifting shoals. 
The Coast Guard is asking local mariners to provide information on conditions and navigational hazards by using this Waterway User Input Form. 
 The Army Corps of Engineers and the Coast Guard have been surveying the Intracoastal Waterway and adjusting channel markers. The latest survey of the NJIWW between Markers 258 and 268 is available here: Intracoastal Waterway Survey.
A Google Earth version of the same survey can be downloaded here: 23Aug21_Mkr258toMkr268_MLLW.kmz.