Capital Projects Roads and Drainage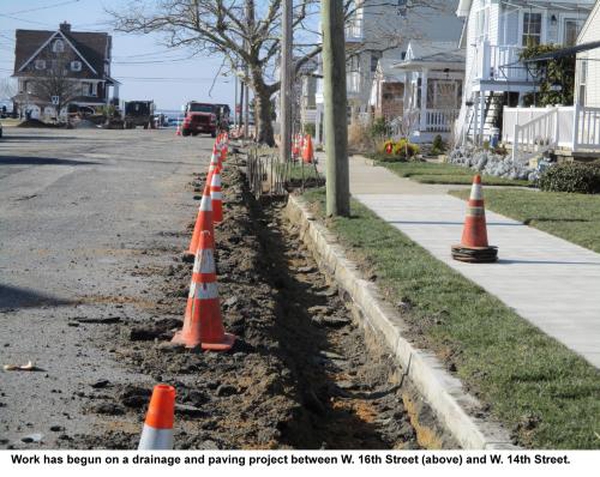 Ocean City will spend $17.4 million on road and drainage projects in 2016 and $34.6 million in total over the next five years.
The city has identified the most flood-prone neighborhoods on the island and is working with outside engineering experts to design comprehensive plans to mitigate flooding across these large drainage basins. Merion Park was completed in December 2014. Two more neighborhoods are in the design phase: 26th Street to 34th Street (between West Avenue and Bay Avenue) and 1st Street to 8th Street (between West Avenue and the bay). More drainage basins will be added as these projects progress.
At the same time, the city is using a Road Rating System (updated in March 2016) to determine priorities for additional road work across the length of Ocean City. All projects are designed to address utility work, drainage, paving, and amenities for pedestrians/bicyclists at the same time. The city also is exploring the possibility of short-term solutions while major projects continue.
See what roads and drainage systems are tenatively scheduled to be fixed in 2016 and in the next five years.
Here are projects currently under construction, in the planning stages and recently completed -- along with a list of roads where utility work will take place.

IN PROGRESS
14TH STREET TO 16TH STREET AREA
DESCRIPTION: Project includes: paving and drainage work of Pleasure Avenue (14th to 16th), 16th Street (bulkhead to West Avenue), 15th Street (bulkhead to Bay Avenue), 14th Street (bulkhead to Bay Avenue), Prospect Avenue, Wovern Place, Bayview Place, the Bayview-14th alley, Bayonne Place, Sunset Place, 1600 block of the Bay-Simpson alley, 1600 block of Haven Avenue and the 1500 block of the Haven-West alley. The plans call for Pleasure Avenue to be raised "up to" 9 inches. But on average, the road will be raised only 6 inches, and the plans take into account the elevation of adjacent properties. All roads are designed with pitch to move water into the storm drain system. The project will include new drainage pipes capable of handling flow from a 10-year storm. Combined with new and bigger outfall pipes and bulkhead improvements that are already completed, the entire area should see improved drainage – without the risk of pushing water toward private property or neighborhing streets. A Third Ward meeting on this topic was held Feb. 20, 2016. City Council on Feb. 25 approved a $1,577,540 contract with Lexa Concrete of Hammonton to complete the job. (The photo above shows the rusted and clogged condition of existing small-diameter drainage pipes.)
SCHEDULE: Work began on Monday, March 7.

PROJECT UPDATE: The entire project is now expected to be closed up and secured for summer by mid-June. The city's contractor has been somewhat delayed by water and sewer work. This was mentioned at the ward meeting and coming back in fall to finish work is a possibility. Under no circumstance will the roadway be left as dirt, all areas will be paved, if only stabilized base course for the summer.
12TH STREET TO 14TH STREET AREA NEAR BAY
DESCRIPTION: New Jersey American Water project.
UPDATE: Weather permitting, work to start week of May 16 and be completed May 26.
Pleasure – 1200 block – entire width mill and pave – match existing elevations.
Pleasure – 1300 block – mill and pave western half of road – match existing elevations.
12th Street – Pleasure to Bay – mill and pave entire road width – elevate road at intersection of 12th and Pleasure; eliminate drop drains and replace with traditional A inlets.
13th Street – Pleasure to Bay – mill and pave northern half of road – match existing elevations
Pleasure/Bay alley – 12th to Marine – mill and pave entire width – match existing elevations; Western spur of alley between 13th and Marine will be left as is since pavement not touched and in good condition.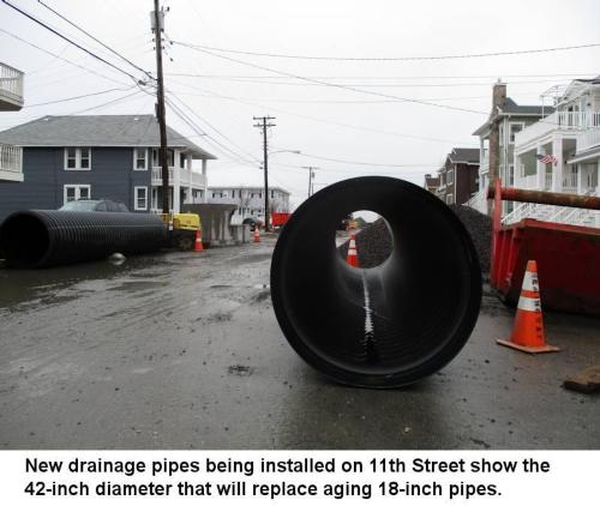 11TH STREET AND WEST 17TH STREET BULKHEAD IMPROVEMENTS
COUNTY DRAINAGE IMPROVEMENTS
DESCRIPTION: Replacement of drainage pipe on the west side of 55th Street and inlets at 34th Street and Asbury Avenue.
SCHEDULE: Expected to be complete by May 1.
UPDATE: Final paving needed.
PLANNING STAGES
26TH STREET TO 34TH STREET
DESCRIPTION: In spring 2015, City Council awarded a $44,720 contract for an engineering study by Michael Baker International Company to provide recommendations for remediating drainage problems in the area bounded by 26th and 34th streets, West Avenue to Bay Avenue. The Baker firm made a public presentation on their study at a Town Hall Meeting on Aug. 4, 2015. See detail of the full study . City Council in fall 2015 awarded a $642,420 contract to Baker International to design the drainage and roadway improvements. Baker presented its proposed solution to the problem at a town hall meeting on March 30, 2016 (see links below). The first phase of work will address the drainage issues and is expected to begin in fall 2016 and be complete by summer 2017. The plan includes replacing and increasing the capacity of storm drain pipes (many of which are damaged), upgrading check valves, reconfiguring roads to make sure water flows into the storm drain system and using four pumping stations to increase the rate of drainage. The city is actively seeking grants to offset some of the cost of the project, which will be funded through the capital plan.

SCHEDULE: First phase tentatively scheduled to start in fall 2016 and be complete by summer 2017.

PROJECT UPDATE: Baker presented its plans at a public town hall meeting on March 30.

(Note: Street range is incorrectly labeled in videos above.)
NORTH END PUMPING STATION
DESCRIPTION: A stormwater pumping station near Sixth Street and Bay Avenue is expected to handle all drainage from 1st Street to 8th Street from Asbury Avenue to the bay. The estimated $8.7 million project will use a $5 million FEMA grant, the largest Ocean City has ever received. Bids are expected to go out late in 2016, and the work is expected to take a year to a year and a half. Read more: North End Pump Station Presentation (Nov. 14, 2015) . An engineering firm is currently conducting an analysis of alternative locations for the outfall pipes for the project. See Q&A on the project .
SCHEDULE: Work tentatively scheduled to begin early in 2017
PROJECT UPDATE: The project is currently waiting on permits and on an analysis of alternate locations for outfall pipes.

One proposed outfall location at the Bayside Center involves Cape May County (which owns the property), and the state Green Acres program (which governs the recreational fields where re-routed pipes might travel). The city continues to work with those entities to explore the possibility. Still waiting on decision from Green Acres and state DEP as of April 2016.
WEST 17TH STREET BRIDGE IMPROVEMENTS
DESCRIPTION: Work to replace the bridge and inter-lagoon culvert on W. 17th Street.
SCHEDULE: The project is currently in the permitting stages. This is a Cape May County project.
PROJECT UPDATE: Cape May County Freeholder Marie Hayes reported recently that the project will be started and completed in the fall of 2016.
WEST AVENUE RESTRIPING
DESCRIPTION: Restriping of West Avenue for bike lanes north of 34th Street.
SCHEDULE: Not determined yet.
PROJECT UPDATE: City Council needs still to authorize traffic study.
OCEANFRONT STORMWATER OUTFALL IMPROVEMENTS
DESCRIPTION: Increase outfall capacity for outfalls at 3rd Street, 6th Street, 9th Street, 12th Street, 13th Street and 15th Street. Also includes emergency repair for First Street outfall.
SCHEDULE: Spring 2017
PROJECT UPDATE: Plans complete and submitted to NJDEP. Waiting on permits (estimated April 2016).
LAGOON DRAINAGE REPAIRS
DESCRIPTION: Sink holes in the side yards of numerous homes related to deteriorating drainage pipes -- 47-51 Arkansas, 58-60 Arkansas, 44-46 Waterway, 25-26 Grenada, 1-2 Caroline, 1-2 Kingston.
SCHEDULE: Spring 2016
PROJECT UPDATE: Work ongoing.
RECENTLY COMPLETED
Spring 2016 Alley Improvements: 100 Block of Wesley/Ocean alley, 300 block of Asbury/Central alley, 1000 block of West/Asbury alley, 5400 block of Asbury/Central alley, 5500 block of Asbury/Central alley and 800 block of Wesley/Ocean alley. Work was completed in March 2016.

Merion Park Drainage Project: Comprehensive road and drainage project including the reconfiguration and replacement of storm drain system, installation of three pumping stations and repaving of roads.

Bay Avenue: 6th Street to 18th Street. Work completed by Cape May County.

Gardens Roadwork: Paving of West Station Road, Sindia, Haven Avenue, North Street, Warwick Road, First Street, Haven/West alley, Simpson/Haven alley and bioswale at North Street and West Avenue.

Gardens Roadwork II: West Atlantic Boulevard, Bridge Boulevard, Crescent Road, West Surf Road, Inlet Road (Battersea to West Surf Road), Landing Road, East Inlet and East Surf Road.

Downtown Paving: At 7th Street, 8th Street, 800 block of West Avenue, Pennlyn Place and 11th Street

South End Asbury Avenue: Paving of Asbury (42nd to 45th), 45th Street (West to Central), 44th Street (meadows to Central), 43rd Street (meadows to Central), 4600 block of the Asbury/Central alley.

West Avenue Restriping: County project to create buffered bicyle lanes south of 34th Street.

Bulkhead Improvements: 16th Street, Battersea Road, Cove Walk, Walton Place, North Street, 12th Street, 2nd Street Marina, 7th Street and Landing Road.

Tennessee Avenue Bulkhead and Second Street Docks: Bulkhead improvements to mitigate flooding.

10th Street Bulkhead Improvements: Replacement of bulkhead and fishing pier.

Fall 2013 Roads 3: Stenton Place, Pelham Place, Arkansas Avenue, Simpson Avenue (1100 block east side), 12th Street (Bay to Simpson, south side).

Fall 2013 Roads 1: Asbury Avenue (39th to 42nd), 42nd Street (West to Central), 41st Street (with drainage from Central to meadows);,40th Street (with drainage from Central to meadows), 39th Street (West to Central), 56th Street (Central to beach), 52nd Street (Central to beach), West/Asbury alley (8th to 9th).
UTILITY WORK
West Atlantic Boulevard (between Bridge Boulevard and Gardens Parkway): The road will be closed in both directions until approximately May 20, 2016 . Please use alternate routes to avoid traffic delays.

4500 Block Sanitary Line: Installation of a sanitary sewer line to service structures on the west side of the 4500 block of West Avenue. Under construction.

Sewer and Water Improvements I: 9th Street (Ocean to Atlantic), Ocean Avenue (Ocean Colony to Moorlyn), West 17th Street (bridge to flag pole), Wesley Avenue (28th to 22nd), 28th Street (Asbury to Wesley), 27th Street (Asbury to Wesley), 26th Street (Asbury to Wesley), 25th Street (Central to Wesley), 24th Street (Central to Wesley), 33rd Street (Bay to Asbury), 32nd Street (Bay to Asbury), Simpson Avenue (31st to 34th), Haven Avenue (31st to 34th), Haven/West alley (3300 and 3400 blocks), Asbury/Central alley (2500, 2400 and 0000 blocks), 1st Street (Ocean to Atlantic), St. James Place (Corinthian to Boardwalk), 1st Street (Corinthian to Boardwalk). Water and sewer work complete. Some restoration of roads still needs to occur. Paving work on Central Avenue between 24th Street and 28th Street began in the week of March 21.

Gas Main Improvements I: Wesley Avenue (1500 block), West Avenue (3100 block), 4th Street (700 block), St. James Place (900 block), Asbury Avenue (5100 block). Wesley Avenue still needs to be restored. 3100 block of West will be jointly paved by the water and gas companies.

Sewer and Water Improvements II: 12th Street (Pleasure to West), Pleasure (12th to 15th), Pleasure/Bay alley (1200 and 1300 blocks), Marine Place, 13th Street (Bay Avenue to Pleasure). Spring 2016

Gas Main Improvements II: Asbury Road (Battersea to North), Central Avenue (Battersea to 2nd), Wesley Road (1st to North), Ocean Avenue (North to 4th), Atlantic Avenue (Nassau Walk to 5th), Corinthian (North to Brighton), 4th Street (800-900 block), Park Place (800-900 block), 3rd Street (700 block), Delancey Place (800-900 block), Pennlyn Place (700-900 block), 2nd Street (500-700 block), St. Charles Place (800-900 block), 1st Street (Asbury to beach), St. James (900 block), Stenton Place (800-900 block), Battersea Road (Wesley to Atlantic), Asbury Avenue (21st to 29th), West Avenue (11th to 16th), 24th Street (300 block). Spring 2016
RESOURCES