Flood Smart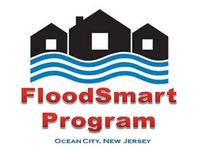 All of Ocean City, New Jersey is within a flood plain, therefore everywhere on the island will flood at some point.  The City is continually working to improve flood protection on the island.  These efforts cannot completely eliminate the chance of flooding but will reduce the frequency and the severity when it does occur.
 All home and business owners who have a mortgage are required to carry flood insurance.  Homeowners Insurance Policies do not  cover loss due to flooding.  Ocean City participates in the Nation Flood Insurance Program (NFIP), and is a Community Rating System (CRS) rated community. Under our current CRS rating (Class 4), most policy holders get a 30% discount on flood insurance. The rating means Ocean City's 16,729 policy holders will collectively save $3,961,169 every year – an average savings of about $245 per participating home.
Please visit our new set of FloodSmart pages for more information on all aspects of flood preparedness or follow the menu of links on this page.