Capital Projects Parks and Public Places
PARKS AND PUBLIC PLACES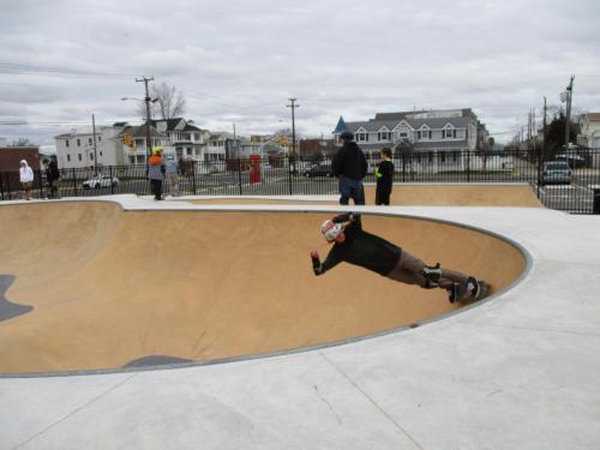 CURRENT PROJECTS
29TH STREET FIREHOUSE
DESCRIPTION: In July 2014, City Council awarded an $80,200 contract to Czar Engineering of Egg Harbor Township to design a restored firehouse after the building was damaged by 28 inches of floodwater during Superstorm Sandy. The plans called for repairs to the existing structure, along with the addition of a second story. The first floor would consist of a 593-square-foot equipment bay, a 1,769-square-foot apparatus bay, a storage area and an exercise room. The new second floor would house: a living room/kitchen area; two bunk areas totaling about 290 square feet; office space; restrooms and a locker area; about 120 feet of storage space; and an entry area of about 205 square feet. Council authorized going out to bid in July 2015. Following Sandy, FEMA had agree to pay 90 percent of the cost to repair the building, which it estimated at $443,000. The bids, however, came back at $2 million.

SCHEDULE: The city is currently negotiating with FEMA on a new reimbursement figure and expects an agreement within the next few weeks. The resolution of that process will determine the timeline for moving forward.

PROJECT UPDATE: The city is prepared to pay its portion of the project cost and will use money from a $1.5 million pool of post-Sandy capital ordinances and reimbursements that have already been approved (because the money already has been budgeted, this project does not appear on the capital plan for 2016-2020).
ARTIFICIAL TURF AT CAREY FIELD
DESCRIPTION: Installation of artificial turf at Carey Stadium, which is adjacent to Ocean City High School but owned by the City of Ocean City. The project was part of a 2014 plan to save money on maintenance and increase opportunities for different games and events on the field. The city team has identified a cork infill that is natural, healthy and entirely organic. A special weave in the artificial grass helps keep the infill in place in wind and rain. The city budgeted approximately $1 million for the project and will tap into the balance of bond ordinances that were approved in 2013 and 2014 for work at the field.

SCHEDULE: Spring 2016

PROJECT UPDATE: City Council awarded a $494,721.51 contract to Field Turf USA on Feb. 11 for the purchase of artificial turf with an entirely organic cork infill. Council awarded a $449,900 contract to LandTek Group to install the turf. The project is now expected to start only after the Ocean City High School graduation ceremony in mid-June.
C ITY HALL
LIBRARY ROOF REPLACEMENT
IMPROVEMENTS TO RACQUET COURTS FACILITIES
PICKLEBALL COURTS
DESCRIPTION: New permanent Pickleball courts had been proposed at a site at the Ocean City Intermediate School, then at the site of a Shelter Road parking lot.

SCHEDULE: To be determined

PROJECT UPDATE: Community Services Director Michael Allegretto is researching surfaces and locations that could be suitable for both Pickleball players and soft-surface tennis players.
RESTORATION OF THE HISTORIC TRANSPORTATION CENTER
AIRPORT PLAYGROUND
HISTORIC U.S. LIFESAVING STATION
DESCRIPTION: Restoration of a historic U.S. Life Saving Station that operated in Ocean City from 1885 to 1915. The city purchased the building in 2010 for about $1 million, ending a decade-long battle to save the station from demolition. Five years earlier, Ocean City voters rejected a proposed $3 million purchase of the property. In 2011, the site received a $750,000 New Jersey Historic Trust grant. The money was part of a matching grant – the city had to come up with an equal $750,000 to help the museum replace its roof and complete work on the foundation, windows and porch of the historic building. The members of local nonprofit U.S. Life Saving Station 30 have promised to repay the full cost of the $750,000 the city invested in restoring the site. The Life Saving Station has also received a $145,000 grant from Superstorm Sandy relief, but those funds are tied to improvements of the grounds and not the structure.

SCHEDULE: Restoration ongoing and could be complete by the end of 2016.

PROJECT UPDATE: The project exterior is completed with grounds maintenance being coordinated .
ON-STREET BIKE RACKS
DOWNTOWN STREETSCAPE IMPROVEMENTS
COMMUNITY CENTER IMPROVEMENTS
CITY HALL PLUMBING IMPROVEMENTS
DESCRIPTION: Replacement of lead plumbing pipes for the 2nd and 3rd floors of City Hall.

SCHEDULE: Not yet scheduled

PROJECT UPDATE: City crews investigating.
NEW POLICE STATION AND MUNICIPAL COURT
DESCRIPTION: An evaluation of the 125-year-old building by an outside engineer indicates it is structurally deficient and incapable of meeting FEMA flood requirements. The proposed five-year capital plan includes $10 million to design and build a new facility.

SCHEDULE: Not yet scheduled

PROJECT UPDATE: The city is evaluating different plans and locations to build a new public safety building with as little impact as possible to the community and to police operations.
BAYSIDE CENTER IMPROVEMENTS
CIVIC CENTER ROOF
DESCRIPTION: Repairs of leaks in Civic Center roof.

SCHEDULE: Not yet scheduled

PROJECT UPDATE: Public Works crews and the third-party owner of rooftop solar panels are investigating.
WELCOME CENTER MODIFICATIONS
34TH STREET RECREATION BUILDING
DESCRIPTION: Enclosure of deck space to create a tennis office.

SCHEDULE: Not yet scheduled

PROJECT UPDATE: Building plan is complete.
CONSTRUCTION OF SALT STORAGE FACILITY
DESCRIPTION: Salt storage facility on the west side of the 34th Street Bridge is no longer usable. Construction of new salt facility on Shelter Road.

SCHEDULE: Not yet scheduled

PROJECT UPDATE: On hold to resolve FAA issues.
COMPLETED PROJECTS
SKATEBOARD PARK
DESCRIPTION: The city used a $500,000 grant from Cape May County and $250,000 of city funds to replace a small skateboard park that was dismantled in 2011 with a new state-of-the-art concrete facility at Fifth Street and Asbury Avenue.
INSTALLATION OF TRACK SURFACE AT CAREY FIELD
15TH STREET PLAYGROUND IMPROVEMENTS
COMMUNITY CENTER HVAC IMPROVEMENTS
DESCRIPTION: Replacing coils on rooftop air conditioner.