Capital Projects Beach
BEACH
UPDATE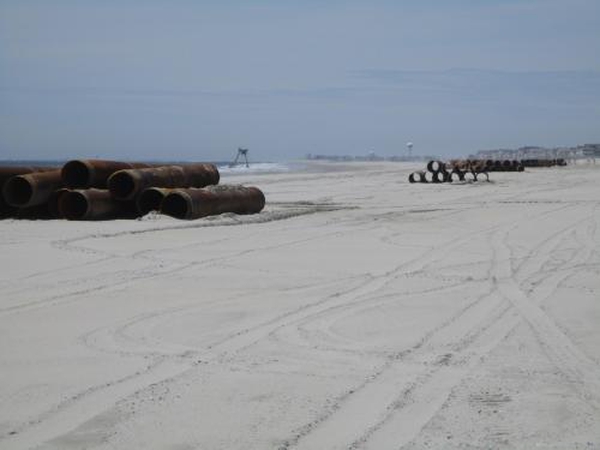 The Great Lakes Dredge and Dock Company completed work at the southern end of Ocean City on May 17 (2016) to restore sand lost during storms in October 2015 and January 2016. Sign up for project update alerts by email .
PROJECT FACTS
When: Work began April 24 and was finished May 17, 2016.
Where: Beaches between 37th Street and 59th Street were restored. A feeder pipeline was in place on the beach at 52nd Street.
Who: Great Lakes Dredge and Dock Company, the same contractor that completed the original project
What: Ocean City beaches received an additional 323,000 cubic yards of sand, about 20 percent of the original total. For perhaps the first time since the beachfront was first developed, the island now has an uninterrupted line of protective dunes and healthy beaches from tip to tip.
Why: The projects are designed to protect coastal property. The contractor had just completed a project to rebuild beaches and dunes with 1.5 million cubic yards of sand when the October 2015 storm hit.
How: The dredge Illinois was stationed at a borrow area in Corson's Inlet and pumped sand through a pipeline that was progressively lengthened to cover the project area.
How much: The estimated cost to bring an additional 1 million cubic yards to the three towns is $15.8 million. The cost is borne entirely by the federal government as part of a post-Superstorm Sandy to protect the entire coastline of New Jersey.
NORTH END BEACH REPLENISHMENT (Completed December 2015)
SOUTH END BEACH REPLENISHMENT (Completed September 2015)